Touch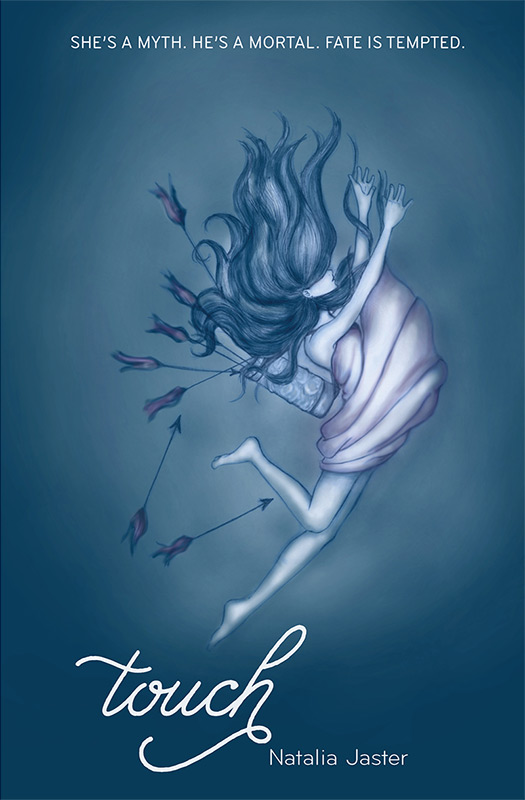 Available in Paperback and eBook:
Amazon: US, Canada, UK, Germany, France, Spain, Italy, Japan, Brazil, Mexico, Australia
Order a signed copy of Touch
$20 plus shipping ($5 – US only)
Summary
The myth of Eros isn't the truth. Her story is the truth…
Love is an immortal bad girl. With a strike of her arrow and a smirk on her face, she pins human hearts together against their will. It's for their own good, of course—silly, clueless creatures that they are.
But Love has never loved. Not until the Fates parcel her off to a small, frostbitten town littered with needy souls. Not until she crosses paths with Andrew, a boy whose gaze locks onto hers. Yet how can this be? Mortals don't have the power to see deities.
The longer they're friends, the more Love wishes she could touch Andrew. In gentle ways. In other tempting and reckless ways as well.
It's impossible. She isn't a true part of his world. She's an outsider whose fingers will only ever sweep through him. A mischievous, invisible goddess who's destined to be alone. And he's destined for someone else. By order of the Fates, it's Love's duty to betray his trust. To seal his heart while ignoring the gash in her own.
Or she could become human. For there is one very tricky, very dangerous way to do so.
If only Andrew felt the same about her, it might be worth the risk.
* Mature young adult/new adult: sexual content and language. For readers 17 and older *
Features & Reviews
Tilly-And-Her-Books: LISTEN UP Y'ALL BECAUSE THIS IS IT. THIS BOOK IS ON MY TOP TEN BOOKS OF 2015 SO FAR.
Read Around the Rosie: Touch was beautifully crafted and my only complaint is that I want more from this world.
Magic-in-Every-Book: Jaster manages to discuss love, free will, human nature, and human emotion with such a deft hand that I was thoroughly impressed.
Pure Textuality: I must say this book has one of the most beautiful treatments of loving touch and intimacy that I've come across.
Polly & Books: ...I ended up swooning quite a lot.
Butter My Books: [Love's] character development is off the charts ... I love mythology but everyone knows that it can go very wrong, very quickly so I did not have super high expectations going into this. Touch blew those expectations out of the water.
Books & Cupcakes: The writing in this book is absolutely captivating and stunning...
Book Drunk in Love: At times it felt like you were reading an old folk tale.
What Lovely Books: "The characters in this book are fascinating. The main characters, Love and Andrew, were so realistically written that I was almost surprised they weren't real people."
The Book Castle: "I think this story lends something new...at least something I've never read before."
Fun Stuff
the deities
Envy
(glass)

Anger
(iron)

Love
(iron)

Sorrow
(ice)

Wonder
(quartz)

Illustrations by Everlart